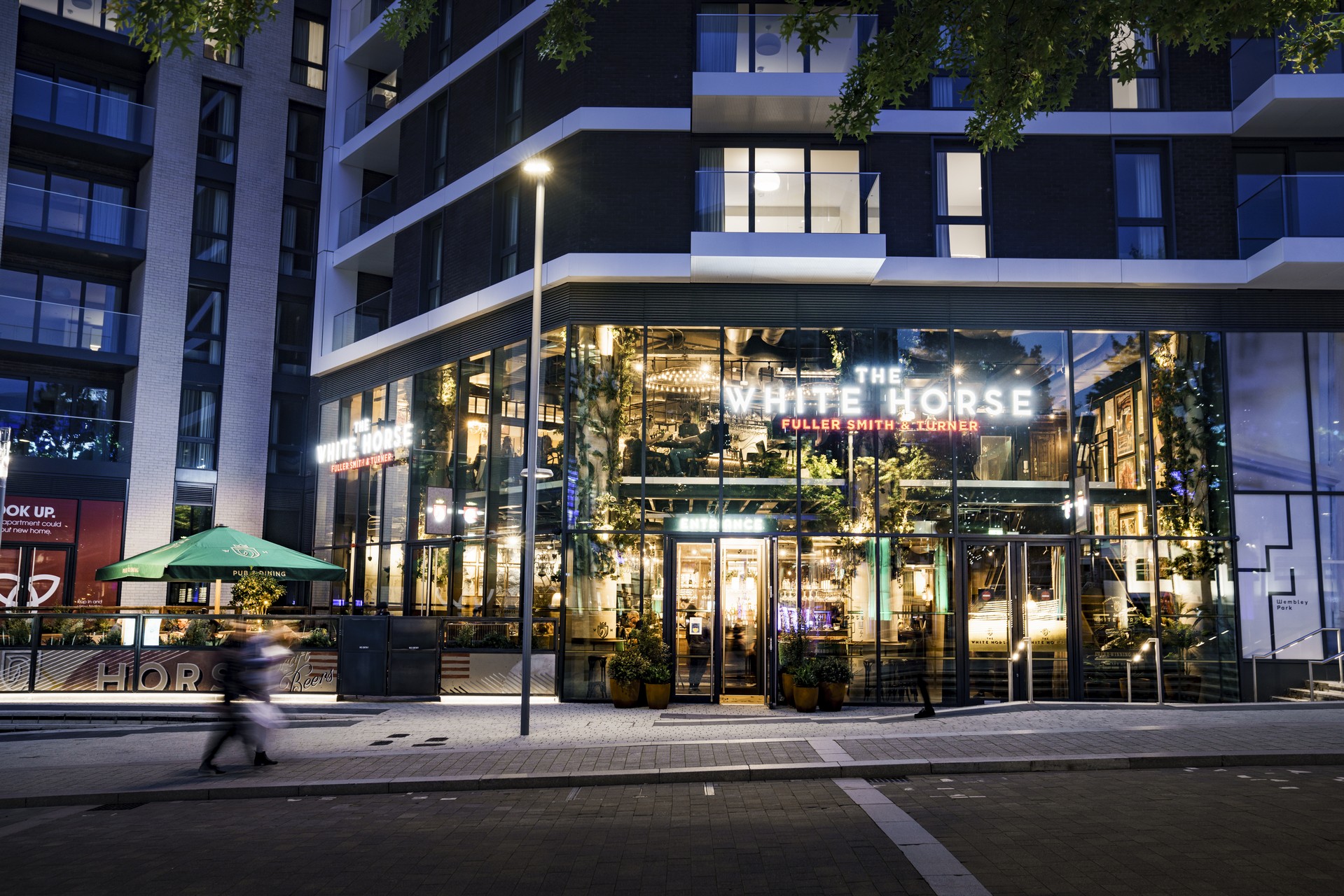 Putting The White Horse at the heart of your visit to Wembley
Please check out what happens on these special event days so you are fully set to make the most of your visit.
Opening hours
We open from 12 noon for the main bar and for food. However, if there's an early start to an event then we may open earlier too. Keep an eye on our social media for opening times.
We normally close at 11pm (10.30pm on Sundays), however, on certain occasions we opt to stay open a little longer for post-event drinks. Please note this is a dynamic decision often made on the evening itself based on a number of factors.
Payment
The White Horse is a cashless venue. Card payments are accepted.
Booking dining tables
To avoid the queues, the first-floor restaurant is often accessed from a separate entrance, just look out for directions. If the event isn't expected to be too busy then the entrance will be through the main porch doors & then up the stairs on the right hand side of the bar which will lead to our host station..
If you are wishing to enjoy your drinks on the terrace at the front of the pub please be careful not to stand beyond the area at the bottom of the stairs as we are not licensed to allow drinking away from that space. We may close the terrace to additional drinkers if we feel it has become too busy & guests are starting to spill on to the unlicensed areas beyond the pub. The garden can be accessed from within the ground floor pub so you can always take your drinks there if the terrace is full.
Menus on arena days
Due to the huge variety of events held at the arena and subsequently audience sizes, ranging from a few hundred up to 12,000, we operate dynamically with regards to where we offer dining within our venue and menu options.
On busier days we need to reduce our menu. It may take a little longer at peak times – so if you're concerned about timings, please check with your server before placing your order. If your match is on a Sunday, we may have roasts too – but availability will depend on how busy we get on the day.
Glassware
To avoid accidents and speed up service, we often serve drinks in plastics on arena days. We know this is not to everyone's taste and we are currently working towards more sustainable options.
How to get here
We are directly opposite the OVO Wembley Arena, the Wembley Library and just to the right of the famous steps up to the Stadium itself so you shouldn't struggle to find us. Wembley Park Tube station has both the Metropolitan and Jubilee tube lines. There is also the Chiltern Railway with the Wembley Stadium stop and Wembley Central which is a bit further away. If you are driving, please be aware that there is a £20 surcharge on top of the £2 hourly rate for the Red Car Park which is the nearest one to us and can be located by typing Royal Route into your sat. nav.
On arrival at The White Horse
Our friendly door staff need to carry out a few checks on arena days. You may be asked for ID if you are lucky enough to look younger than 25. You might be asked to open your bag for a quick bag search. Please do not attempt to bring in any of your own drinks or food. It goes without saying that we have a zero tolerance for drugs too.
Accessible toilets and lift
When booking a dining table, please let us know if you need to use the lift and/or the accessible toilet. We will endeavour to seat you closer to the lift and at a table that is suited to a wheelchair if you let us know you use one.
Restricted outside drinking areas in Wembley Park
Please be aware that we are only permitted to allow guests to drink alcohol in certain areas outside the front of the pub due to our licence & the ban on street drinking in Wembley Park. Our terrace is only licensed to the edge of the steps that over-look the arena, we will have signage directing you to the permitted area but please be aware that we will ask you to move if you are outside the space allowed. You can be subject to a fine of £100 if you are found to be drinking alcohol in a restricted area.
Outdoors and smoking areas
Accessed only through the pub, and sometimes with its own little bar on sunny days, our garden is where you can go to smoke outside with your drink. We close the garden at 9.30pm so if you are with us at that time, and wish to smoke, you will need to leave your drink inside and use the designated smoking area in the terrace at the front of the pub. Due to our licence we need to control the number of guests using the garden so there may be occasions where you are asked to queue to get through to that area.
Dogs
We LOVE dogs but please think twice about bringing your four-legged friend to The White Horse on a stadium day as it can be enormously busy and very loud and we wouldn't want any paws being stepped on. If you are booking a dining table, please let us know if you are planning on bringing your dog and we will do our best to seat you in a quieter area although we cannot guarantee this.
Children (under 18s)
Children are always welcome with parents or responsible adults over the age of 25. Please note that it can be a loud and very busy place on stadium days. Subject to change, we typically allow children under the age of 18 in the pub until 8pm. Please be aware that we do not allow anyone under the age of 18 to consume alcohol even if partaking in a meal. We have a children's menu suitable for young children up to the age of around eight.
Lost Property
If you think you have left something at The White Horse by mistake then please give us a call on 020 8237 8037 in working hours or drop us an email at Whitehorse.wembley@fullers.co.uk with a clear description of what you are missing, your contact details and where you think it may have been left and we will check for you. Please note that bags left at the venue are usually handed to the police for security reasons.
Please note, all of the above is subject to change. Due to often having more than 100,000 people in very close proximity to our venue, when both the stadium and arena host events at the same time, we may occasionally have to make dynamic changes to menus, our opening times and other areas of the business. We will do our best to keep you informed but this might not always be possible.